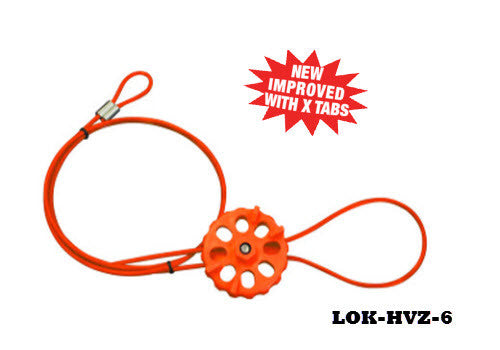 Cable Lockout System 6ft. HI-HVZ Orange - Cable Lockout Tagout Device
$ 26.95
Quick Overview
HI-HVZ Orange Cable Lockout System w/6ft. looped cable, Item # LOK-HVZ-6, Made in USA, Adjustable Cable Lockout All-in-One Device eliminates the need for a heavy chain and incorporates hasp feature for SAFE Group Lockout/Tagout. The most efficient and cost effective solution for the isolation of a wide range of valve types and sizes and electrical panels.
"Volume Discounts Available" Available lengths up to 50 ft. 
Dealers Call to Order 310-938-9191 or request a quote for faster service 
and better pricing.
Product Description
HOW IT WORKS | THREE EASY STEPS TO LOCKOUT
1. Pull cable through equipment
2. Insert cable from the side into the slotted grooves of the base 
3. Tighten cover by hand. 
LIGHTWEIGHT, easily carried by an operator when locking off numerous valves and electrical panels. 

DURABLE, made of high impact, UV resistant Polypropylene plastic with an imbedded stainless steel nut &     bolt, highly resistant to chemicals, corrosion, and extreme temperature ranges between -65F and +185F.

ADJUSTABLE, THE CABLE LOCKOUT ALL-IN-ONE SYSTEM comes with a flexible, looped 6ft, PVC special coated, galvanized steel cable to lockout any side-by-side gate valves and electrical panels. 

OSHA COMPLIANT (1910.147), Incorporates the features of the hasp, allowing up to six (6) individual operators the use of six #3 Master Locks or color coded American Locks to have a safe Group Lockout/Tagout without compromising company safety standards.

HI-HVZ Orange lockout color identifies the SAFETY lockout application.